1084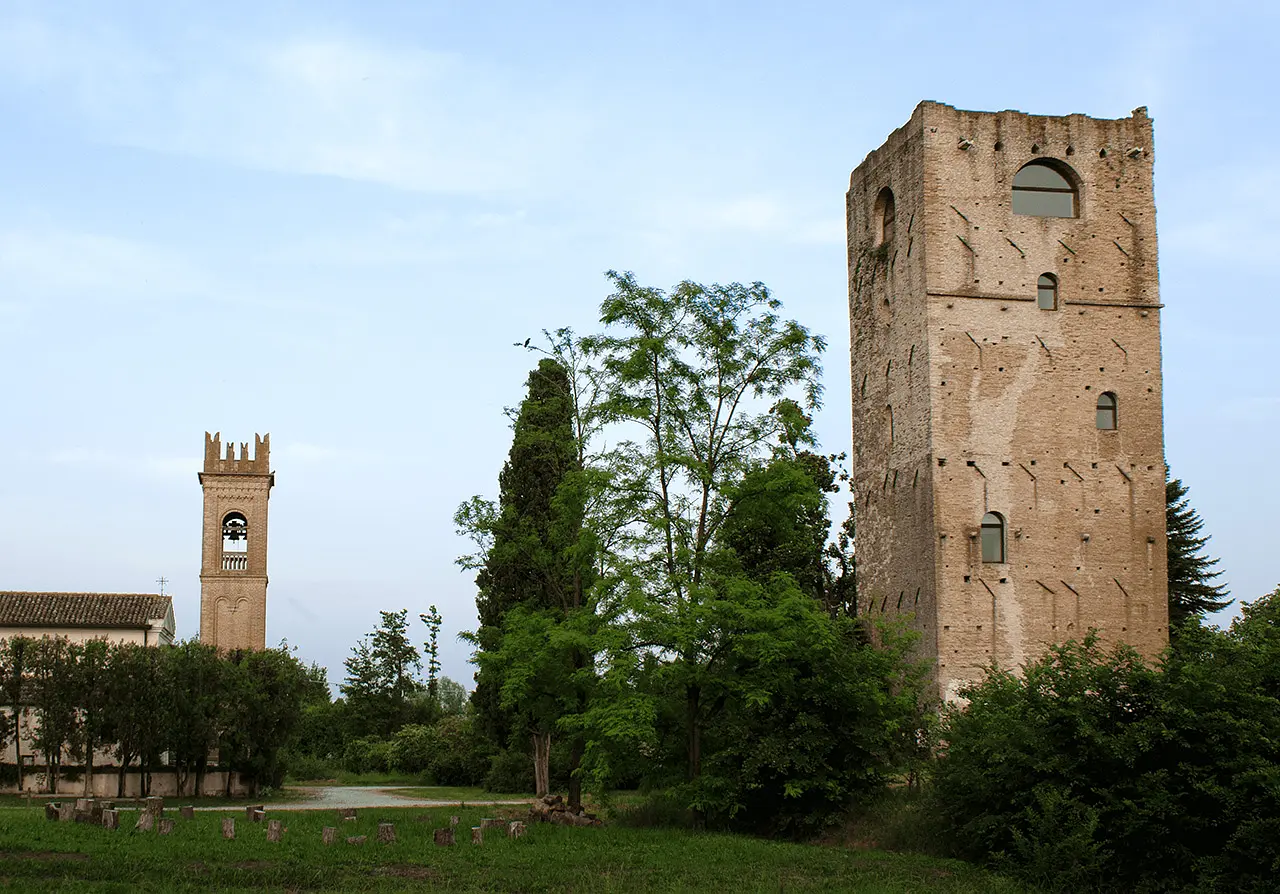 The lonely tower
Of green to the rampant cow of gold

Automatically translated page.
What it is and where it is
Nestled in the countryside of Torrate lies an area that hides traces of a distant past, almost lost, but determined not to be forgotten. Entering the Torrate Springs Park, one sees resurgent springs forming small streams. Here, among paths and vegetation stand buildings, two of them very old: a tower and a small church. Time has been kinder to the house of worship, if only because, maintaining its function, it has been cared for. The tower, on the other hand, has remained the last lookout of something that no longer exists, itself a victim of the inclement passage of centuries.
Why it is special
Of what was once the castle of the Counts of Sbrojavacca, the tower is now the only immediately visible evidence. What may be surprising is that it is still owned today by this noble and very old family.
Not to be missed
The small church of San Giuliano was also part of the castle complex. Documented as early as 1332, it was completely rebuilt in 1664 after the Sbrojavacas were reprimanded by the abbot of Sesto because the church was in a state of neglect. The baptismal font inside is decorated with a bas-relief of the Sbrojavacca coat of arms sculpted by Pilacorte, a famous 16th-century sculptor who decorated the portal of Pordenone cathedral. The small bell tower, on the other hand, was built only in 1934 since the church originally had a bell gable on the roof.
A bit of history
Wanting to go back to the legend associated with the noble Sbrojavacca family, it tells of a French ancestry of the lineage, which is said to have settled in Friuli even at the behest of Emperor Charlemagne. Actually, according to historians, the origins of the lineage are related to that of the "di Cosa" family. It would be a branch detached from this very family that settled in Valvasone in 1118 and that a little later, moving to the curia of Sbrojavacca, acquired its name.
Curiosity
The presence of the cow on the noble coat of arms of the Sbrojavacca family would be justified by the tale of an ingenious stratagem devised during a siege. Stuck in the castle, the lords had by then run out of supplies. It is said that to make the enemies believe otherwise, they would throw a cow from the walls shouting, "Sbroja (skin) la vaca!"
To make travel arrangements
Collections
Discover places and related research
The Map thanks:
Collections
Discover places and related research