3421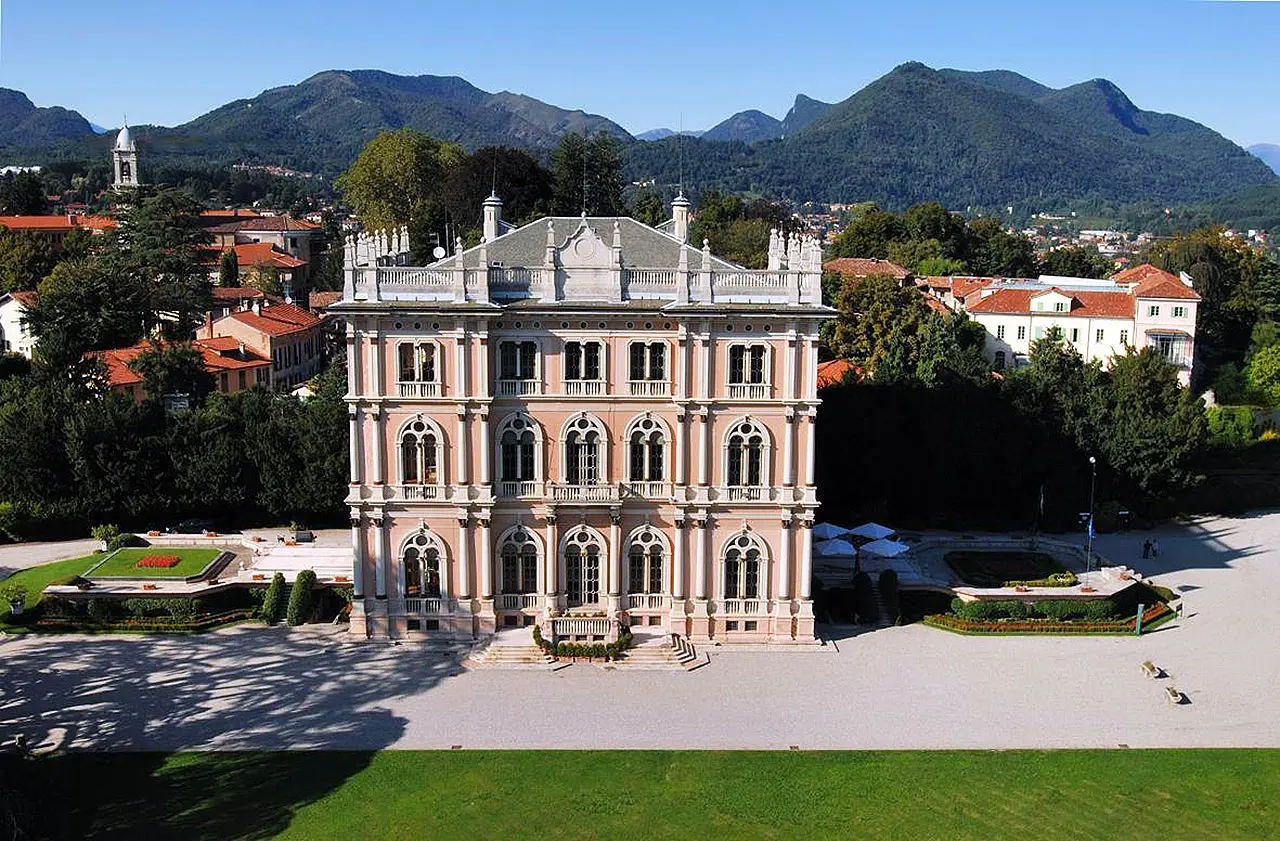 Automatically translated page.
What it is and where it is
On the hill of Upper Biumo is an elegant complex consisting of three sumptuous buildings, Villa Andrea, Villa Napoleonica, and Sellerie, and a 50,000-square-meter English-style park with a botanical trail full of fine plants. A small eden further enhanced by the view of the city from this location. Today the complex houses a technologically advanced conference center.
Why it is special
There are many villas dotting the Italian territory, but two in one place are quite rare. Villa Napoleonica is the oldest, built in the 17th century on an old church whose Gothic arch survives on the west wall. Villa Andrea, in neo-Gothic style, enchants with its color contrasts on the outside, while inside, in a single cubic and majestic body the different rooms are arranged around an octagonal atrium, protected by a glass dome. Moreover, it is an authentic ode to the art and culture of our Bel Paese.
Not to be missed
Villa Andrea'sartistic heritage, in fact, unfolds with Bertini's frescoes, Focosi's and Bianchi's canvases, Murano glass chandeliers and two imposing bronze statues dedicated to Dante and Michelangelo. The frescoes that enrich the ground-floor rooms speak of illustrious and ingenious men: Christopher Columbus returning from the Americas, Galileo demonstrating the use of the telescope to the Doge of Venice, Guido d'Arezzo teaching singing to three teenagers, and Alessandro Volta presenting his battery to a young Napoleon Bonaparte.
A bit of history
Villa Napoleonica is the oldest building and was purchased in 1838 as a summer residence by the Ponti family, forerunners of textile entrepreneurship in Lombardy, while Villa Andrea was built in 1858, designed by architect Giuseppe Balzaretto. Their existence was not always peaceful: Villa Napoleonica was Garibaldi's headquarters for the Battle of Varese on May 26, 1859. From here he directed the war operations that led to victory over the Austrians. Since the 1960s it has been owned by the Varese Chamber of Commerce.
Curiosities
Villa Andrea, inspired by the model of the Venetian Ca' Vendramin, has hosted such luminaries as King Umberto I, the Duke of the Abruzzi and Crown Prince Umberto di Savoia. Today it is an ideal venue for a fairytale wedding, set in enchanting surroundings: in 2018 ,for example, it was chosen by Daniele Bossari and Filippa Lagerbäck for their wedding.
To make travel arrangements
Collections
Discover places and related research
The Map thanks:
Collections
Discover places and related research