97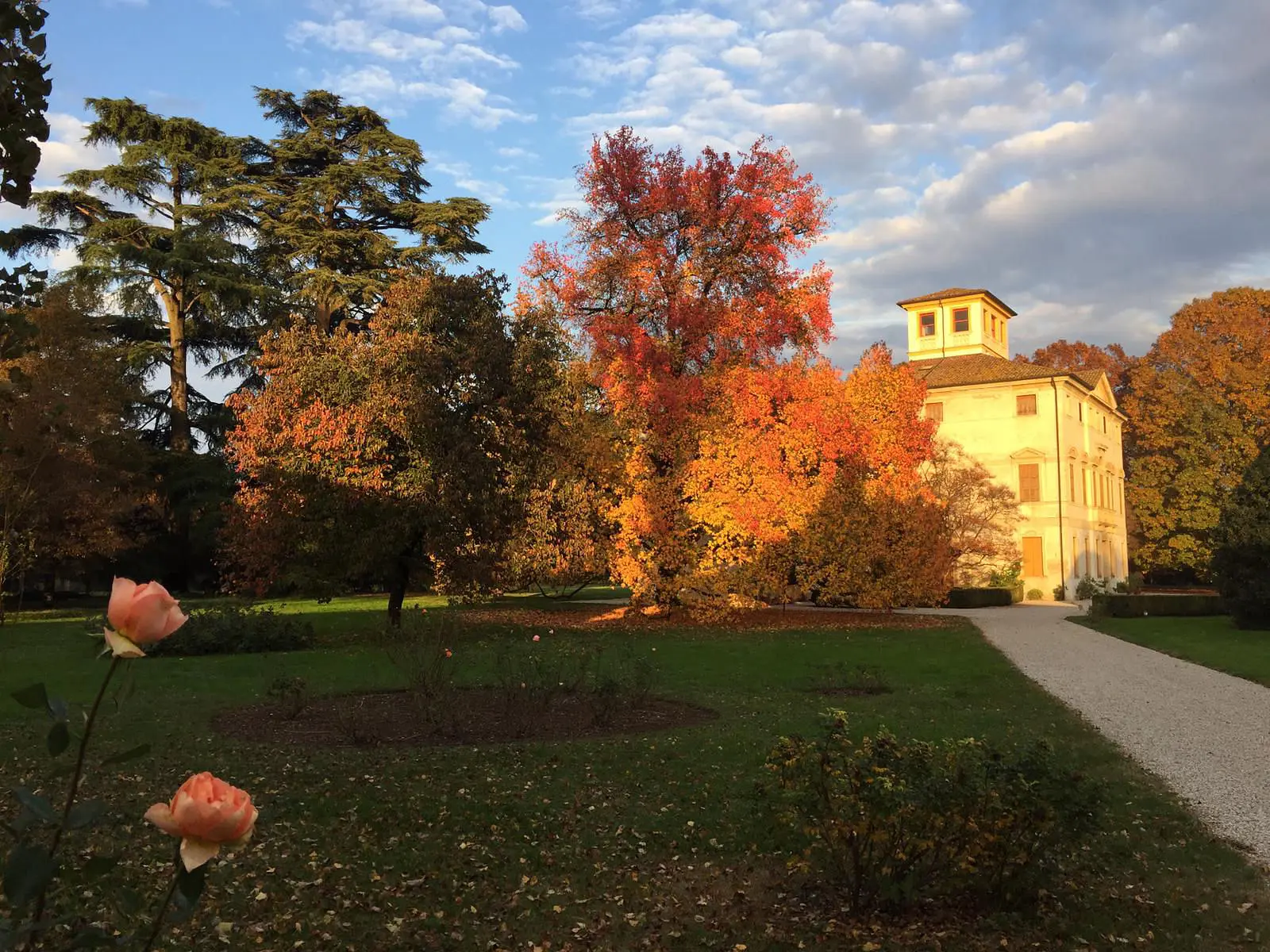 Automatically translated page.
What it is and where it is
Stepping through the historic gate from Via Marconi, in Fontaniva, one has the impression of entering a world apart, despite the fact that the Villa and Park are very close to two inhabited centers provided with all services and very busy. One enters a parenthesis, a time bubble in which it seems possible to get away from everyday thoughts for a while. The Villa is very easy to find, Via Marconi being the main road that runs through Fontaniva, a town only about two kilometers from the better-known fortified city of Cittadella, in the province of Padua.
Why it is special
What, in our opinion, makes this ancient Venetian mansion special is the very close relationship that binds it to its natural setting, an English-style Jappellian garden of about 3 hectares, with woods, small bridges, and striking views, which frames it, enhancing the simplicity and clean geometry of the architecture. The Villa's interiors express a sense of welcome that puts visitors at ease.
Not to be missed
In May, in particular, the colors of the garden are really very beautiful; a suggestion that is repeated in the fall. During the warm season, different kinds of events are offered from year to year. At certain times musical events have been offered, given the excellent acoustics, and cultural events such as lectures and painting exhibitions. The halls are also used for private events, so it is always best for the visitor to call and make sure that the facility can be visited on the desired days.
A bit of history
The oldest core of the Villa dates back to at least the early 1500s. Three were the most important families who inhabited it: the Counts Orsato of Padua, the Cittadella Vigodarzere family, and the Gallarati Scotti family of Milan, who still own it today. Prominent figures of Italian culture and beyond stayed in this house, such as Giacomo Puccini, the painter Arturo Rietti, Alcide De Gasperi, Benedetto Croce, and many others. It was a field hospital during World War I. Among other things, in the 1920s Aurelia Cittadella Vigodarezere had a fruitful exchange of letters with the poet Rainer Maria Rilke(Lettere milanesi, published in 1956), while Duke Tommaso Gallarati Scotti, in addition to other important writings, composed the last drama performed by Eleonora Duse, the Così sia.
Curiosities
The Villa, given its particular structure, was a nationwide meteorological observatory in the late 1800s, Count Antonio Cittadella Vigodarzere, the then owner, being president of the Italian Meteorological Society.
To make travel arrangements
Collections
Discover places and related research
The Map thanks:
Collections
Discover places and related research