1963

Sasso, the tower-houses in the hinterland of Bordighera
The stronghold of the Eight Places



Automatically translated page.
What it is and where it is
One can clearly distinguish a tiny cluster of houses gathered at the top of the hill from the town of Borghetto San Nicolò: this is Sasso, the other hamlet of Bordighera. It looks very close, and indeed it is. All we have to do is cross the Borghetto stream and climb the road that sinuously wedges between the terraces and belts of olive trees, mimosas and wild broom, arranged along the western wall of the hill. So what are we waiting for? We are here-let's go!
Why it is special
It rises as a small, elegant fortress town on the ridge north of Bordighera that, continuing inland, leads to the Principality of Seborga. The small handful of historic buildings all gathered between the 18th-century church and the scenic Piazza Caprera, a privileged terrace overlooking the seascape and hills and surrounded by palm trees and maritime pines, is characterized by the presence of tower-houses and parts of old walls. These elements lead us to hypothesize the original defensive and strategic function of the village.
Don't miss
To enjoy the evening atmosphere in the beautiful historic square of the village we recommend the crazy night of the "Summer Carnival," celebrated on the last weekend of July. An event where, in addition to admiring the beauty of this enchanting place, you can taste some typical local products and have fun with your family. The event, in fact, attracts a very wide target of participants, with a special attection aimed at the little ones. Come and savor the magic of history while breathing the typical carnival air caressed, however, by a very pleasant summer breeze.
A bit of history
Sasso was one of the villages that distinguished itself, in 1686, for the struggle against Ventimiglia that later led to the establishment of the "Magnificent Community of Eight Places" of which it was part along with Bordighera, Borghetto San Nicolò, Vallebona, Camporosso, Vallecrosia, San Biagio, and Soldano. Its tower-houses, therefore, are today a symbol of the resilience demonstrated over the centuries and in the struggles waged, successfully, against much larger cities.
Trivia
The street that encompasses the village, gathered within the remains of the city walls, is dedicated to Army Corps General Vincenzo Rossi (1866-1945), who was born and died here. He was part of an educated, refined and progressive Ligurian family, particularly connected to French Enlightenment culture. The General's daughter, Irene Brin (a pseudonym for Maria Vittoria Rossi), was a journalist and writer, as well as a traveler, art dealer, and woman of great style.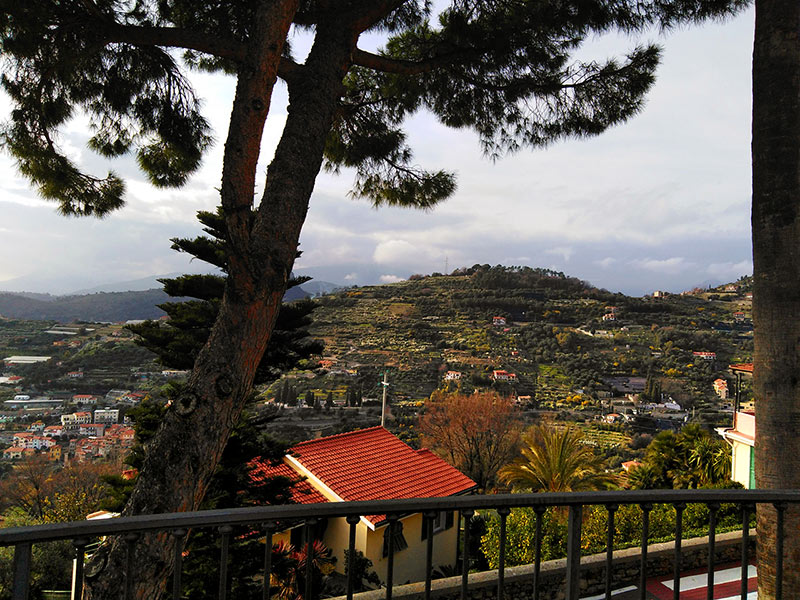 Hillside landscape as seen from Caprera Square - Ph: Luigiandrea Luppino © Source
To make travel arrangements
Collections
Discover places and related research
The Map thanks:
Collections
Discover places and related research