1631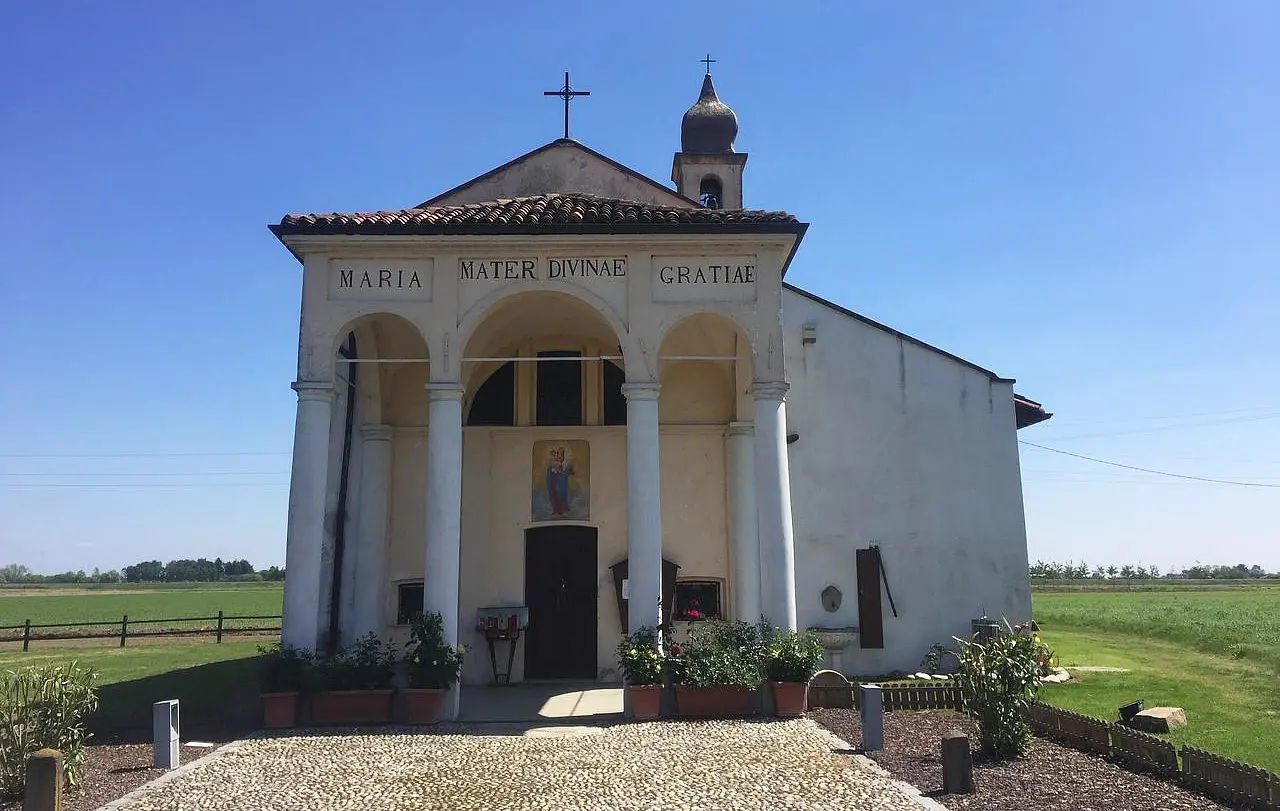 Shrine of Santa Maria dei Campi of Landiona
A white dot in the green rice-growing countryside



Automatically translated page.
What it is and where it is
The Oratory of Santa Maria dei Campi is a simple, gabled building, but its high colonnade invites us to enter and discover the frescoes that adorn the interior walls. They were executed in the 16th century and attributed to Bartulonus da Novara, a painter very active in the area. On the two side walls of the nave and on the counterfaçade, a cycle of frescoes, subject to recent restoration, depicting the Passion of Christ is visible. Painted on the right wall are the Last Supper, Prayer in the Garden of Olives, the Capture of Jesus, the Judgment before Pilate, the Crucifixion, the Deposition and the Resurrection.
Why it is special
It stands along the Via Biandrina, an itinerary that was of great strategic and economic importance in the Middle Ages and because it connected Valsesia from north to south with the rice plain, following the course of the Sesia River. There are still churches, chapels, oratories and castles of great historical and artistic importance along the route. The Oratory of Santa maria dei Campi pops up in the countryside like a white fragment of past life, an opportunity to be grasped by the wayfarer who is traveling along the path.
Not to be missed
On the left wall of the oratory, among a number of saints, an unusual and rare Saint Eve stands out , painted as a bare-chested young woman symbolizing the mother of all the living, paralleling Mary, mother of Christ. St. Roch and Our Lady of Milk stand out on the counterfacade. Focusing on them, it is nice to realize that all the female figures frescoed here are highly humanized and display an attitude typical of everyday life. Some recent studies attribute the latter fresco to the workshop of Tommaso Cagnola, who was very active in the Novarese area in the second half of the 15th century.
A bit of history
The original construction of the church is dated to the 12th century and stood near a village later abandoned by the inhabitants, who sought a safer refuge in the fortified village of Landiona. The church thus fell into an obvious state of neglect until 1493, when a certain Bartolomeo de Lunseratio had it restored to its present form as a votive place of worship. The building is still associated with Marian celebrations.
Trivia
On Easter Monday the Oratory of soul: a country festival is held there with the distribution of the traditional omelet with "vartisi," wild asparagus or hop shoots.
To make travel arrangements
Collections
Discover places and related research
The Map thanks:
Collections
Discover places and related research