843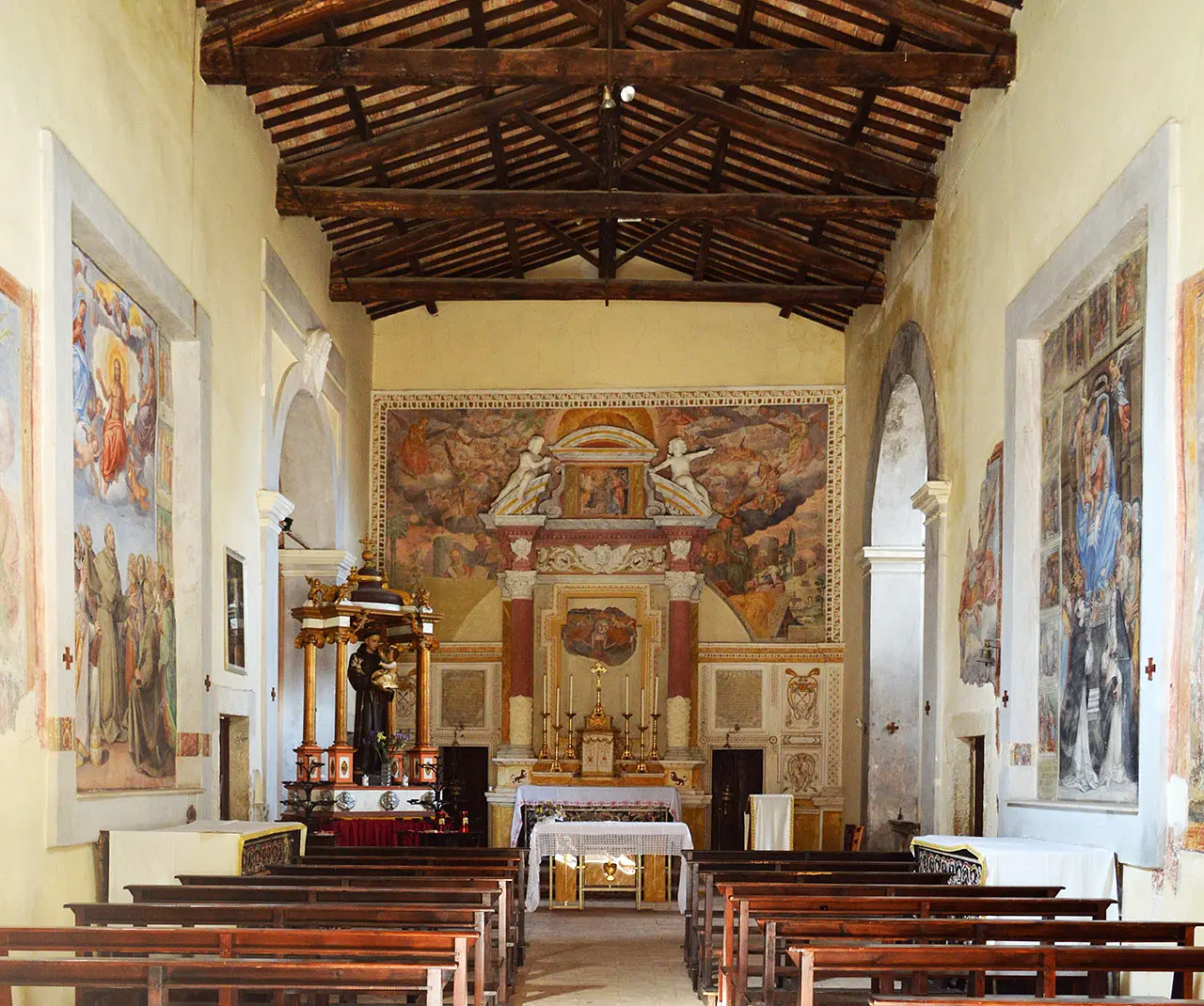 St. Mary of the Recommended
Faithful companion and today passionate whisperer of Orvinio's history.


Automatically translated page.
What it is and where it is
To get to its door you have to climb the Borgo Stairway that connects it with Garibaldi Square. It might look like a devotional path, but in fact it was born from a practical need: to connect the church of Santa Maria dei Raccomandati with the center of the village. In the 1700s, the staircase was built to include it in the built-up area and make it easily accessible. Whether it was born with practical or mystical purposes, this staircase with the church that seems to peep over the square from its top is undeniably a masterpiece of scenography. We are in Orvinio, one of the most beautiful villages in Italy.
Why it is special
The structure of the church is classical: Latin cross with a single nave. Of particular interest is the interior decorative apparatus, made mainly by the hand of Vincenzo Manenti. After touring Central Italy collecting techniques and suggestions, he had returned to his hometown as an established painter. Santa Maria dei Raccomandati was his establishing work in Orvinio. Not for nothing did he include a self-portrait of himself in the canvas depicting St. Francis Receiving the Stigmata, and he certainly did not choose to go unnoticed by allowing himself the honor of wearing papal robes.
Not to be missed
Santa Maria dei Raccomandati is the meeting place of the Confraternity of the Gonfalone, so much so that mass and procession are celebrated there in the name of St. Anthony.
A bit of history
It was built in 1582, during the rule of the Muti Barons, with an adjoining convent held by the Conventual Religious until the Napoleonic era. When it was connected to the village by the Stairway, it was decided to extend the nave and redo the facade, to make it parallel to the street. During Napoleonic rule, French soldiers found refuge there. The fires they lit there caused great damage to the walls. After their departure, the authorities of the time ordered whitewashing thus covering the frescoes.
Trivia
From the altar of H.H. Virgin of the Rosary wooden steps were removed to peer under the Virgin's canvas. Just then a letter written by the Rector of the Convent from where a little friar who had just been transferred for punishment came from was found, urging that he be watched because he was defined as suspicious. Strange case, the letter disappeared immediately. Could it have been the friar himself who hid it?
To make travel arrangements
The Map thanks: