164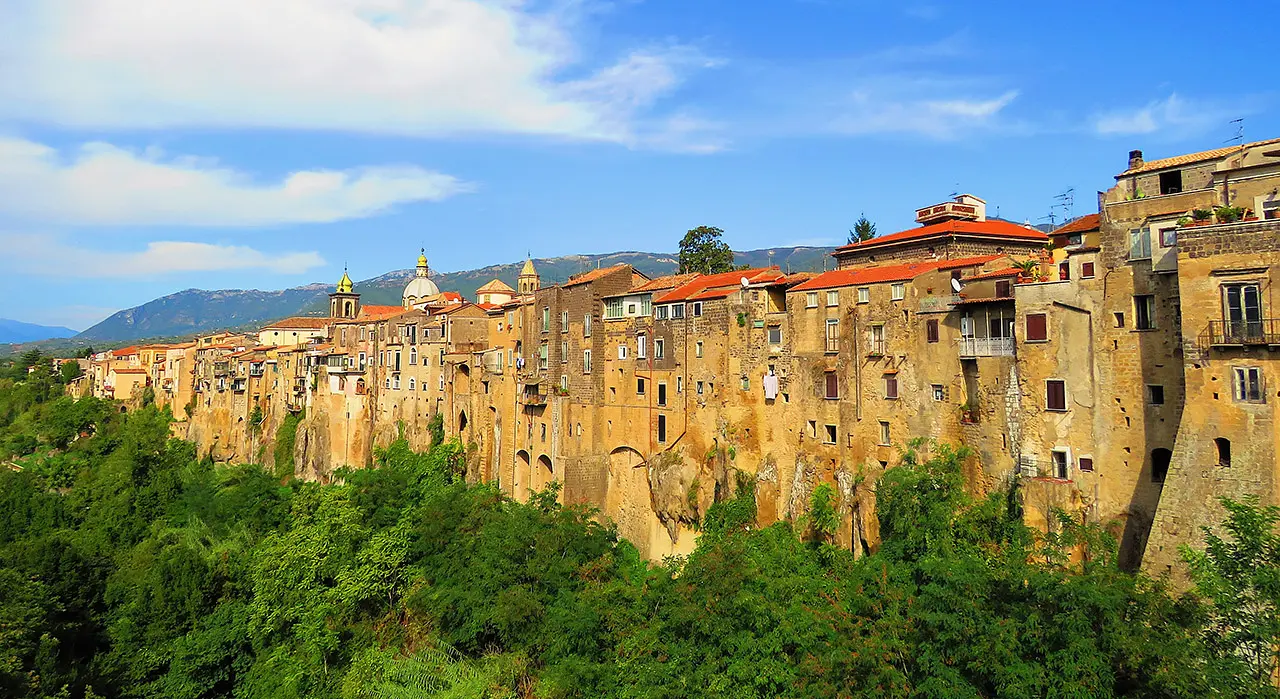 Automatically translated page.
What it is and where it is
Sant'Agata de' Goti rises on the edge of the picturesque valley of the Isclero River, which springs from the Taburno massif and after passing through the Moiano narrows flows into the Volturno. The historic center occupies a terrace delineated by two tributaries, the Martorano and the Riello: this is where the original center of Saticula was formed, which played a role in the wars between the Samnites and Rome in the 3rd century BC. The atmosphere is intensely medieval in the maze of narrow streets that invariably open up to the horizons of Sannio.
Why it's special
The historic center seems to have the same compactness as the cliff on which it stands, but on its outline rise domes and bell towers that hint at the ancient rank of the municipality: the Duomo, dedicated to the Assumption; the church of the Annunziata, along the central Via Roma; and others up to the count of ten. Then there would be to say about the typical products, starting with the wines - Aglianico, Falanghina, Greco, Piedirosso - that have specific Doc labels and wineries that delve into the tuffaceous subsoil.
Not to be missed
The Vittorio Emanuele bridge, which crosses the verdant valley of the Martorano stream, offers the most striking view of the historic center, perched on the edge of an impressive cliff of volcanic stone: a long theory of three- and even four-story buildings, which in some cases stand on arches stretched many meters downward. Beyond the bridge, one faces the imposing remains of the Ducal Palace, heir to the castle of Lombard foundation placed to guard the only point of easy access to the town.
A bit of history
Thename of the town refers primarily to the patron saint, Santa Agata martire, from Catania, who is highly venerated throughout Italy. As for the Goths, giving credence to the more usual version, they would be the defeated in the Battle of Vesuvius in 533 AD, who were allowed to remain in their fortresses as allies of the Byzantine Empire. Rather, it seems that the attribution is to be referred to the Norman family, - the Drengots, mispronounced in 'De-Goth' - who in the Middle Ages had the territory as a fiefdom by the Lombards.
Trivia
Sant'Agata de' Goti has another saint in heaven: Bishop Alfonso Maria de' Liguori, who ruled the diocese from 1762 to 1775 with a dedication that contributed to his beatification. The curiosity is of a musical nature because the saint was the author of a Christmas carol, "Quanno nascette Ninno" (When the Child was Born), peculiar starting with the fact that it has lyrics in dialect: Quanno nascette Ninno a Bettlemme / Era notte e pareva miezo juorno...; the Italian version is known under the title "Tu scendi dalle stelle" (You Come Down from the Stars)...
To make travel arrangements
Collections
Discover places and related research
The Map thanks:
Collections
Discover places and related research