710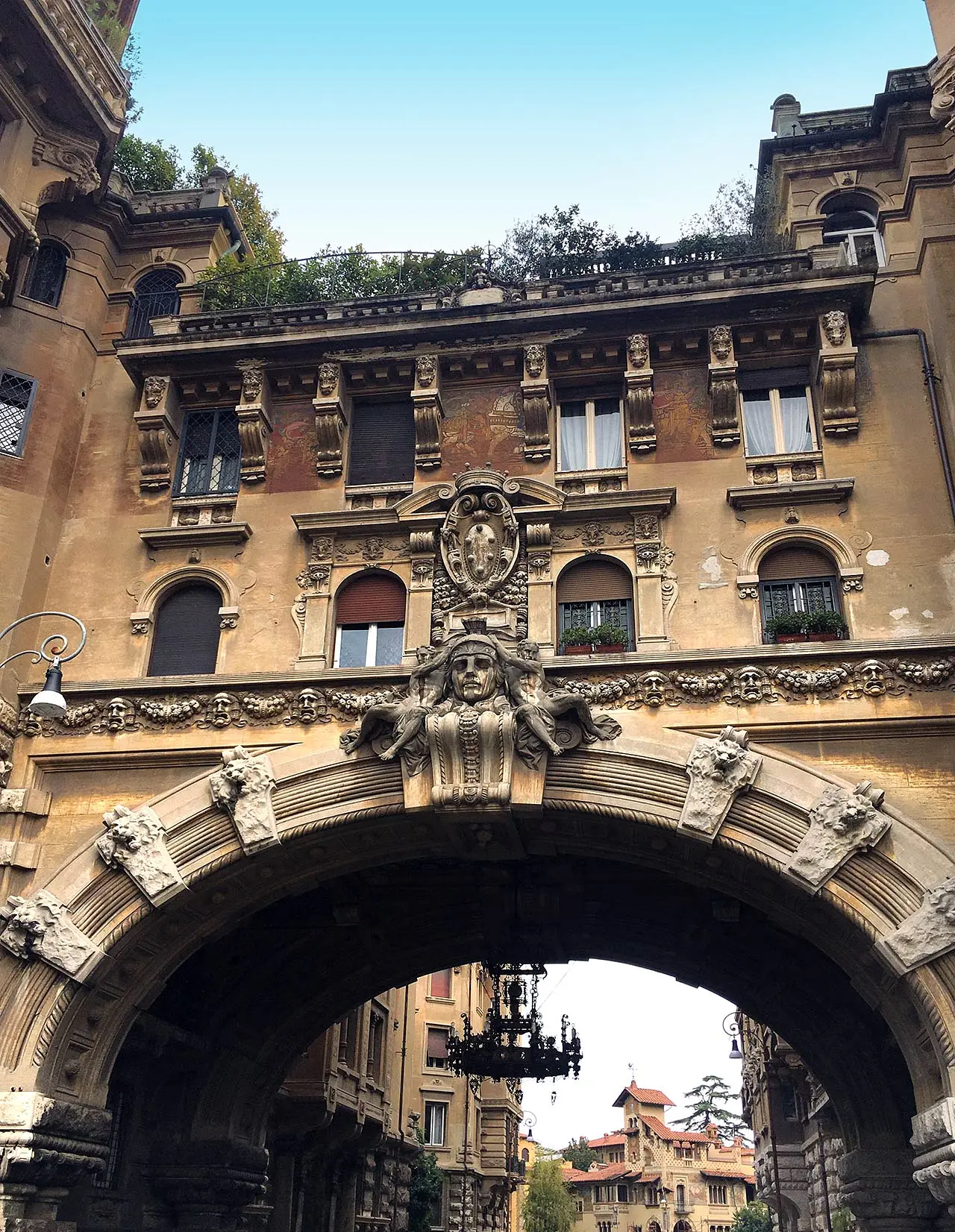 Coppedè District - Rome
So peculiar that it could inspire a storybook


Automatically translated page.
What it is and where it is
An upscale housing complex, between the Parioli and Trieste districts, dating back to the early decades of the 1900s, becomes one of the most unusual, magical and mysterious corners of Rome. The most evocative way to access it is from the large entrance arch on Via Dora (corner of Via Tagliamento and Via Arno), which, with its majestic wrought-iron chandelier, finely decorated vault, and the large mask above it, opens into a storybook setting.
Why it is special
The neighborhood is a riot of decoration in an imaginative mix of Gothic, Baroque, Art Nouveau, and Deco elements. Its centerpiece is Piazza Mincio with the Fountain of the Frogs (an homage to Bernini's Roman fountains), around which are the most distinctive and charming buildings such as the Palazzi degli Ambasciatori, the Palazzo del Ragno and the Villino delle Fate. Trees and climbing plants surround and shroud the mystery of these unique palaces. The very life of the neighborhood is a mystery: there are no names on the doorbells and nothing can be seen from the fences or the high perimeter walls of the cottages, even the noises of the city suddenly disappear. This is magic!
Not to be missed
The Villino delle Fate is the "centerpiece" of the neighborhood. It consists of three buildings in one, each with its own entrance, respectively decorated and dedicated to Rome, Florence and Venice. Brilliant and imaginative is the mix of materials and elements used for the terracotta, brick, glass, wrought iron and travertine decorations. The result is mind-blowing!
A bit of history
The history of the neighborhood began around 1915, when the Società Anonima Edilizia Moderna commissioned its construction from the Florentine architect Gino Coppedè, who had already made a name for himself in the building field, especially in Genoa. The commissioners asked for a varied and lively typology of blocks of flats, envisaging a series of palaces and small villas intended for an upper-middle class, and on the basis of these requests the architect Coppedè created this incredible Roman corner. The work was completed by Paolo Emilio Andrè, after Coppedè's death in 1927.
Trivia
The Coppedè district was chosen by Dario Argento to film some scenes for two of his most famous films, The Bird with the Crystal Feathers and Inferno. Just imagine a night walk, shrouded in autumn fog, when the only noise you hear is that of trampled leaves and you are under the eerie gaze of frightening masks and gargoyles, the only sentinels of your frightened gazes! But when the light comes back, don't forget to take a selfie around the Fountain of Frogs, in memory of the bath the Beatles took here after a concert in the very nearby and historic Piper Club! Have a great time!
To make travel arrangements
Collections
Discover places and related research
The Map thanks:
Collections
Discover places and related research