818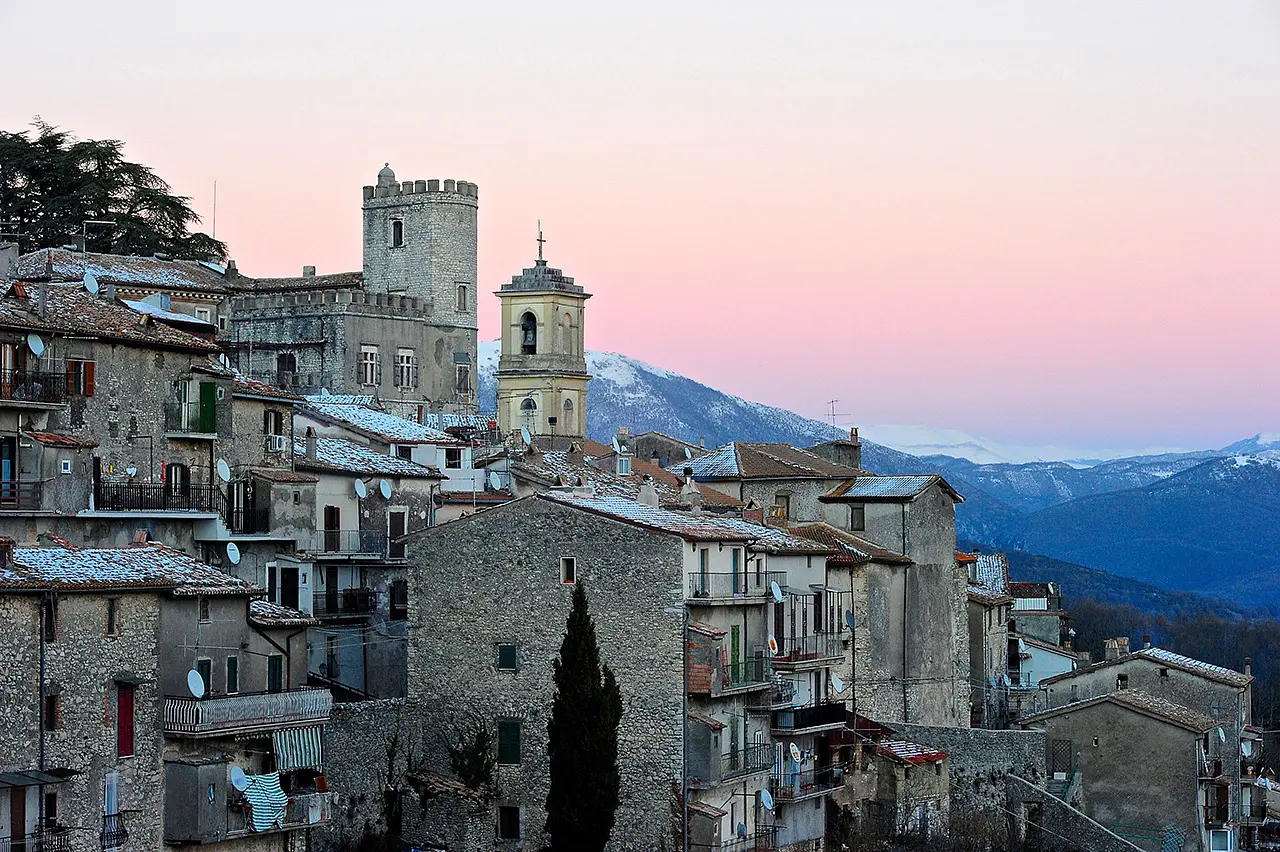 Orvinio
Impossible not to be fascinated by it, unthinkable not to want to return to it


Automatically translated page.
What it is and where it is
In Alta Sabina, at 840 m, Orvinio is one of the "Most Beautiful Villages in Italy" and 2nd ranked in Lazio for FAI's "I Luoghi del Cuore" 2019. At first glance, it presents itself as a cozy, polite, medieval village. Almost immediately one becomes aware of its many souls that awaken one by one the numbed senses. It is a palette of colors with the Wild Orchid Garden, the green of medicinal herbs, the white stones paving the streets, the frescoes by Vincenzo Manenti. It conquers us with the ancient flavors of local products and dishes and the smell of incense from the churches of San Nicola and Santa Maria dei Raccomandati. The silences of the paths, immersed in the panoramas of the Monti Lucretili Park, have for years made it the perfect setting for slow tourism on foot, bike or horseback, as well as a spiritual stopover for pilgrims on the path of St. Benedict.
Why it is special
The different souls of Orvinio are in the high walls of the Malvezzi Campeggi Castle, in the silent Vallebona Sanctuary, in the telling ruins of the ancient Abbey of Santa Maria del Piano. They are in the religious processions and festive festivals that mark every season of the year. But what makes Orvinio truly unique and special, its "secret," is its people: its special predisposition to hospitality allows anyone to feel at home from the first moment. A profound human experience, born from the spontaneity of a simple, firm and well-planted life, like the mountains that surround this pearl of Sabina.
Not to be missed
In autumn, Enorvinio: among the charming streets of the historic center, a food and wine tour with the participation of selected wineries and tasting of typical products. In winter, Sagra del Pizzillu, the special durum wheat pizza baked under the "coppo" accompanied by field chicory. In spring, Orvinio in Arte: exhibitions, painting and photography shows, book and docu-film presentations, conferences, music and everything revolving around art. In summer, the Polenta Festival and the Cecamariti all'Aglione Festival.
A bit of history
Three famous people owe their birthplaces to Orvinio: Virgilio Brocchi, writer and philosopher (Orvinio 1876 - Genoa 1961); Giovanni Girolamo Frezza, engraver and painter (Orvinio 1659 - Rome 1749); and Cavalier Vincenzo Manenti, painter (Orvinio 1600 - 1674).
Curiosities
Toponymic curiosity. In ancient times Orvinio was called "Canemorto": one of the legends tells of a cruel tyrant who terrorized its inhabitants. When he died everyone rejoiced, shouting, "The Dog is dead!" - Astronomical curiosity. On August 31, 1872 at 5:15 a.m., a conspicuous amount of meteorite fragments fell near Orvinio: 3,397 samples were collected. One of the largest, weighing 375 g, is preserved in the Mineralogical Museum of La Sapienza University in Rome, under the name "Orvinite."
To make travel arrangements
Collections
Discover places and related research
The Map thanks:
Collections
Discover places and related research