1409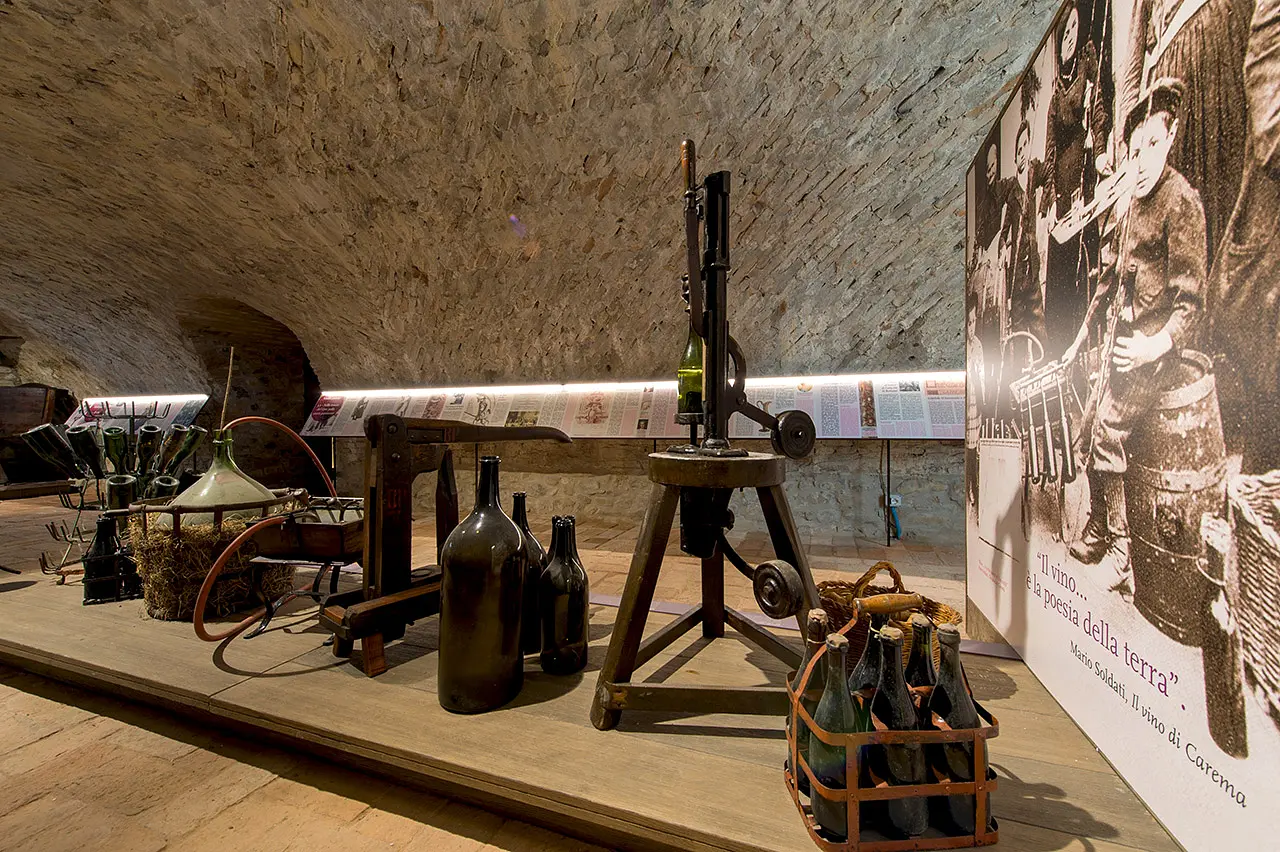 Wine Museum
Right here begins the long love affair between us Italians and a good glass of wine, thanks to the Celts who saved us from the watered-down habits of the Greeks and Latins


Automatically translated page.
What it is and where it is
In the center of an area that has been devoted to wine production for centuries, in the evocative cellars of Rocca Sanvitale in Sala Baganza, is the "Cantina dei Musei del Cibo," an exhibition and sensory itinerary included in the wider circuit of Food Museums in the province of Parma. A museum dedicated to the wine of Parma, its history and culture, could only be in a venue worthy of such tradition: a fortress from the second half of the 1200s owned first by the Sanvitale family and then by the Farnese and Bourbon families.
Why it is special
This is the place to delve into aspects related to the characteristics of the vine plant and viticulture, tracing its history in the Parma area, including through tools and objects of use from the last century and a film on the technique of vines "married" to trees in rows, typical of the area. The tale then continues with the grape harvest and the preparation of wine, while images and documents tell the stories of wine in the area: from the Medieval Arts to the French techniques introduced by the Bourbons, Garibaldi's love for Malvasia, and Giuseppe Verdi's passion for viticulture.
Not to be missed
To get to one of the most impressive rooms, one must cross the moat of the Rocca. This leads to the barrel room, where one discovers the history of wine containers and related trades: the glassmaker and the cooper. But also the history of the cork, the corkscrew and the label. To crown the experience, finally, there is nothing better than going down to the basement of the fortress. Here you will find a wine shop that offers the opportunity to taste local wines.
A bit of history
Highly developed in Roman times, viticulture has left important cultural evidence in the Parma area. In collaboration with the National Archaeological Museum, ample space has been devoted to the archaeology of wine in the Parma area, with objects and images from excavations in the area. We thus discover that in this very area, Celtic populations led to the birth of the "modern" way of drinking wine: straightforward and in glasses, abandoning the Greek and Latin use of watered-down and spiced wines.
Trivia
The descent into the fascinating Renaissance icehouse is transformed into an enveloping experience: 360-degree images tell, in the heart of the museum, the role of vines and wine in ritual, history and art, immersed in a culture thousands of years old and rich in tradition.
To make travel arrangements
Collections
Discover places and related research
The Map thanks:
Collections
Discover places and related research