6431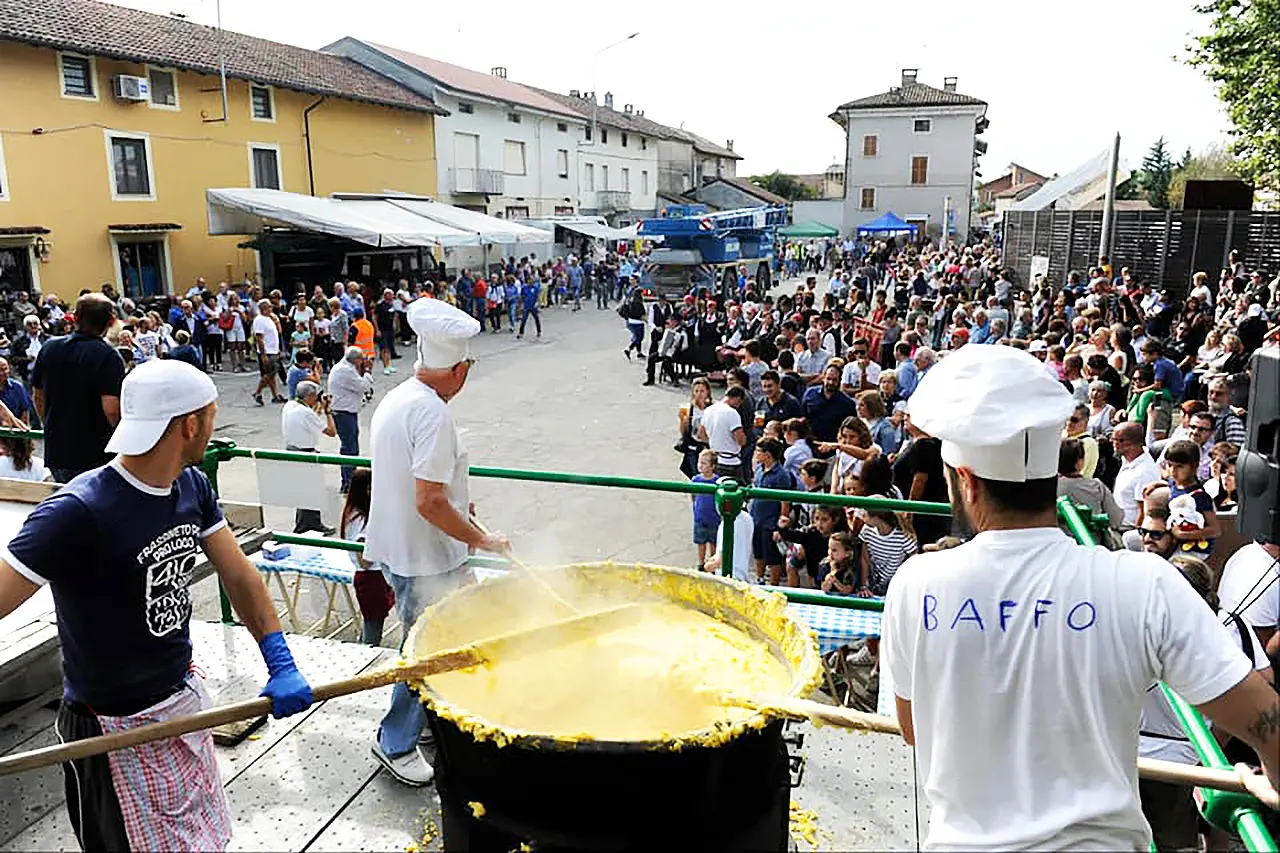 The Pepper Festival and the maxi-polenta
A tasty tradition that has been repeated in Frassineto Po since 1973
Automatically translated page.
A festival that embraces flavors and territory
The quiet town on the Po River fills up with visitors in the last days of August with the historic Pepper Festival, a landmark for lovers of food and wine and authentic festivals. Organized by the Pro Loco of Frassineto Po, the event is a valuable opportunity to learn about the traditions and territory of the Po River Park. During the days of the festival you can visit the beauties of the village, experience the Po, taste typical products, attend shows and experience a moment of joyful sharing with the local community.
The bell pepper is typical of the area and is celebrated on this beautiful occasion, but it is all the local culinary art that is enhanced. Traditional dishes such as Piedmontese fried food are offered at lunch and dinner, but there is no shortage of typical recipes with the taste of the bell pepper on the plate starting with peppers in bagna cauda.
Just think that as many as five quintals of polenta are processed and served directly in the square. But the highlight of the event is to be eaten first and foremost with the eyes, and that is the tipping of the maxi pot of polenta. Once cooked, in a spectacular maneuver admired by tourists, locals and onlookers, the polenta is tipped from the maxi copper pot onto a stainless steel-lined table, and later served with peperonata and sausage. A heady aroma is released throughout the village and people compete to grab a plate of the succulent dish!
The Po, guest star of the festival
During the festivities, the great river of Italy is enhanced with many initiatives by local associations: from walks to hiking and biking trails. In addition, the Po Landscape Interpretation Center, an exhibit that reconstructs the evolution of the river from a naturalistic point of view and tells of its fundamental role for local communities, opens its doors exceptionally in August.
Another curious excursion is to one of the "big chairs" that can be reached a short distance from the village. These are huge chairs, cadreghe in the local dialect, where you can admire in relaxation and harmony the view and enjoy a nice glass of local wine. To feel small in front of the immensity of the Monferrato landscape!
To make travel arrangements
Collections
Discover places and related research
The Map thanks:
Collections
Discover places and related research