1603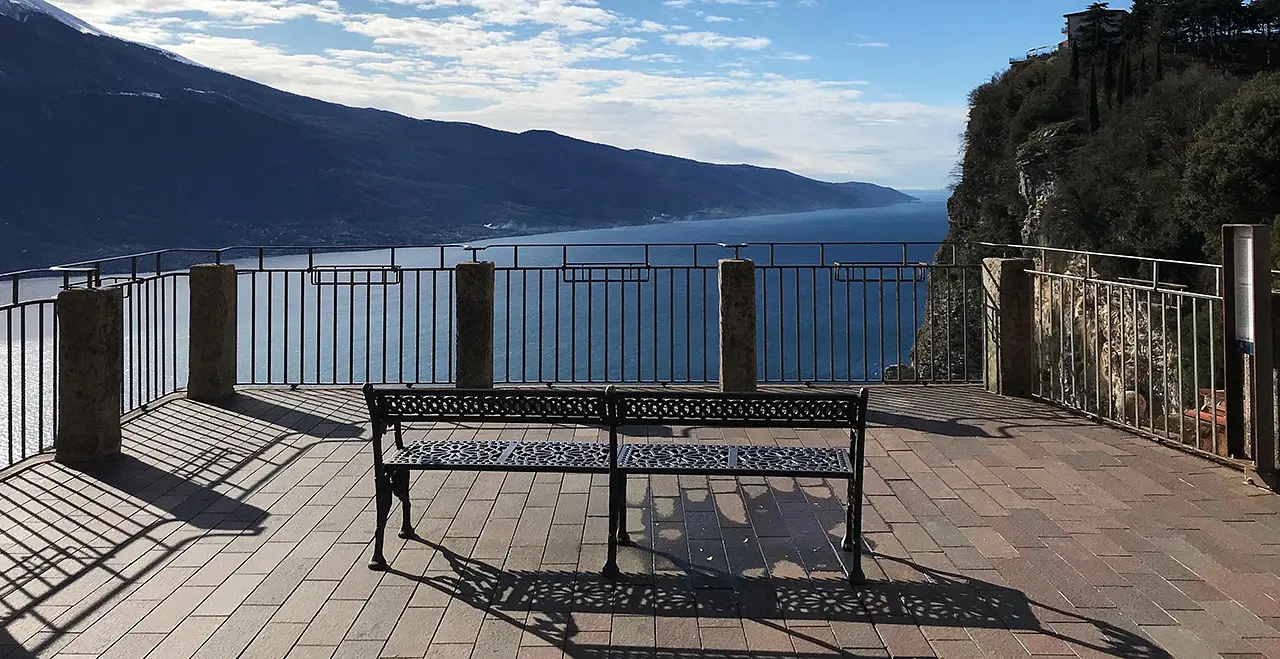 Automatically translated page.
What it is and where it is
The Porto Trail begins in the Locality of Porto di Tremosine. Today it gives the beautiful views of Lake Garda, but it was not always so. What we are proposing is a loop that from the hamlet of Campione, climbs to the plateau and returns to it from Trail No. 110. Right in Campione, trail No. 150 connects us with No. 141 Sentiero del Porto. This path clings to the rocks and climbs the mountain, occasionally coming out in small villages overlooking the lake. Past the hamlet of Pregasio, Trail 110 descends into the gorge of the San Michele River to bring us back to Campione.
Why it is special
As we ascend along the trail, the mountain and the lake open up to our eyes during breaks and spur us on. Once we reach the top, however, the magic of the loop trail begins: a new road prevents our steps from repeating on an already beaten path. The opposite direction from the one we came from shows us how ahead and below us, rocks descend swiftly, eager to plunge into the lake, and we almost feel a chill run through our bodies. An exhilarating vertigo that makes every step on this trail an unforgettable thrill!
Not to be missed
One of the towns crossed by the trail is the Borgo di Pieve, capital of the municipality of Tremosine sul Garda. At 430 meters above sea level, its panoramic terraces overlooking the lake are also called "Terraces of the Thrill." The quaint old town also has its jewels to unveil: the "scala tonda," the Parish Church of St. John the Baptist with its Romanesque bell tower, and the "Must" museum of Tremosine sul Garda located at Villa Paradiso.
A bit of history
For centuries, the steep path of the Port connected the harbor to the main town, but it was a hard walk: men carried goods on their shoulders, then there was to plow the expanse of the lake with boats, barges, and boats. Only in 1913, a connecting road "the Forra Road" was built. A true jewel, set in the bowels of the mountain, so amazing that it was called the eighth wonder of the world by Winston Churchill.
Curiosities
Between the 1800s and 1900s, two cableways operated between the port and Pieve : the "Berasi wire" with arrival station at the old rectory, and the "Cozzaglio wire" with arrival on the terrace of the present Miralago hotel. The first cable car ran with a counterweight of stones and remained open until 1912. The second used water weight as its "engine": on each stretcher was housed a shaft filled with water on the descent and emptied for the ascent. The Cozzaglio wire was in service from 1906 to 1931. Some small traces of the old cable cars are still visible. Would you know how to find them?
To make travel arrangements
Collections
Discover places and related research
The Map thanks:
Collections
Discover places and related research