696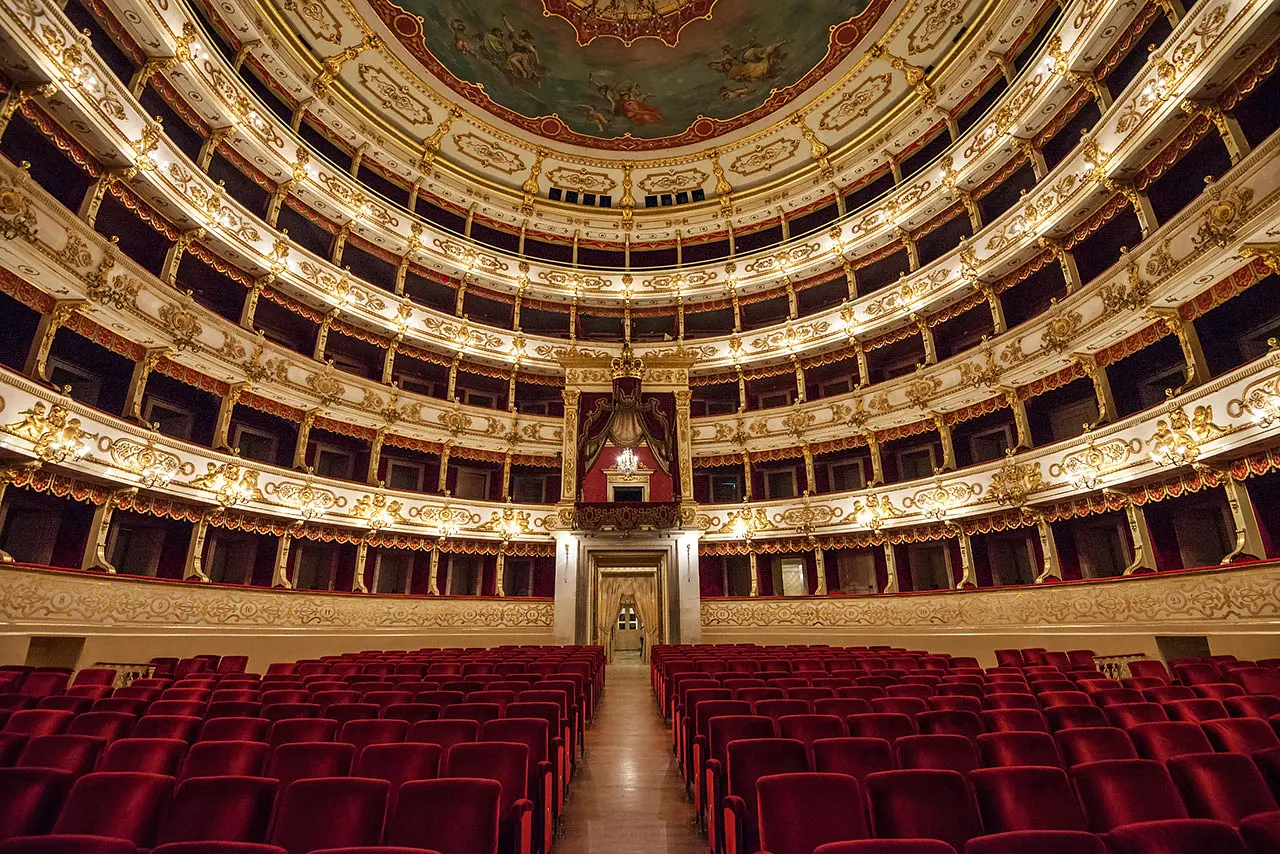 The Regio di Parma in the sign of Giuseppe Verdi
Grand opera and neoclassical atmospheres: on the stage of one of Italy's historic theaters


Automatically translated page.
What it is and where it is
Parma is one of the great capitals of opera music, and the Regio in particular is one of the places most associated with the figure of Giuseppe Verdi. This splendid theater stands in the heart of the ducal city, between the Madonna della Steccata and the Pillotta Palace: built at the express wish of Duchess Maria Luigia of Austria, it was inaugurated in 1829 and has since seen the passage of all the great names of melodrama, from Callas to Pavarotti (who recorded an EP right here). Its audiences have a reputation for being particularly demanding.
Why it is special
The Regio is a majestic neoclassical building: it has a facade in the form of an Ionic temple and a large colonnaded atrium; then, strikingly, the elliptical stalls, with four tiers of stage plus gallery; very elegant is the foyer, the smaller hall where it is immediate to find the atmosphere desired by the Duchess, to whom, in the year 1843, Giuseppe Verdi dedicated "I Lombardi alla prima crociata." Today you can discover its secrets with a varied choice of guided tours.
Not to be missed
The Regio's playbill knows no rest, including opera, symphonic music and ballet. The most anticipated moment of the season, however, comes with autumn: it is the Verdi Festival, which always features classics by the composer. The event also involves the Paganini auditorium, the city's other great music space, designed by Renzo Piano, and other venues, such as the Cathedral, lent to music for the occasion. Not forgetting, of course, the delightful theater that the city of Busseto has dedicated to its most illustrious son.
A bit of history
Parma is a veritable mine of cues for the art and good taste enthusiast. Just think of Correggio's frescoes in the Duomo and the Camera di San Paolo. Its happiest period, however, is that of the reign of Maria Luigia of Austria, who was the wife of Napoleon and mother of his only son, the King of Rome. Dedicated to the history between the 18th and 19th centuries is the delightful Glauco Lombardi Museum, where the real protagonist is the "beloved" duchess through portraits, dresses, jewelry and a wide variety of objects related to her affections.
Curiosities
The Regio preserves a rare example of a twentieth-century 'acoustic chamber, ' an apparatus that at first glance seems to be of simple stage design, a kind of architectural backdrop to be placed around the orchestra. Instead, the acoustic chamber, composed of modular wooden brushes, can be modified in its geometry from time to time to enhance the sound produced inside and channel it appropriately toward the audience, reproducing the effect of the sound box of a musical instrument.
To make travel arrangements
The Map thanks: