1519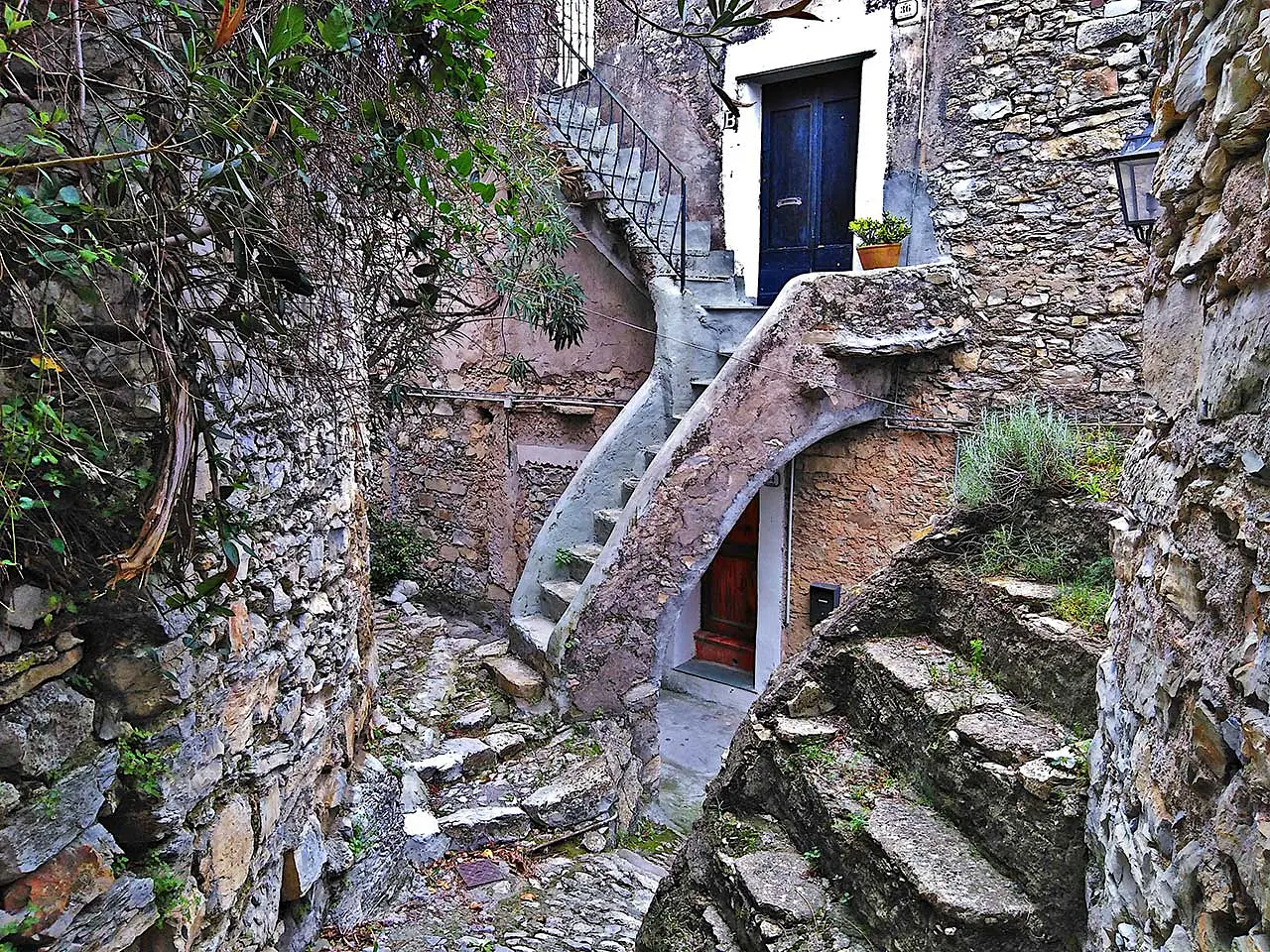 Automatically translated page.
What it is and where it is
Greeting us at the entrance to the village is the ancient Roman sandstone bridge over the crystal-clear course of the Roia River, which flows through the valley of the same name where the town of Olivetta San Michele lies, just a stone's throw from our French cousins across the Alps. Stepping through the portico, at the base of which resides a stone water basin, we are in Piazza del Popolo, all gathered and huddled under the small church and surrounded by a spectacular landscape over the Roia valley, which, here inland, becomes more cramped and wild than in the coastal area.
Why it is special
In the square is a gentleman. We approach, "Good morning." At first he seems a little shy, then we understand why. He answers laboriously in hesitant Italian, full of dialectal inflections that I cannot distinguish: later we find out it is Occitan, officially recognized here as a minority language. "You'll have to excuse me, we're not used to talking much," he adds. Oh yeah, because you should know that this is undoubtedly one of the smallest communities in the hinterland of Imperia, consisting of only 9 residents.
Not to be missed
"Is the hamlet all here?" we ask the gentleman, now more at ease. "No, no. This is the square, but there is more to see. Down here, in this underground alley, there is an old restored stone mill, for example. From Via Castello, on the other hand, you will come to the central carruggio where you will find the village bakery." Once we reach it we remain speechless as we think of the village solidarity of yesteryear, when everyone brought some delicacies to bake and, while waiting, exchanged news or simple chats in the open air.
A bit of history
From the narrow streets going up and down the village, decorated with climbing plants and flower pots placed on the sides and window sills, and crisscrossed by well-maintained stairway arches, we understand that the village is not abandoned to itself as it was during the depopulation period of previous decades. On the contrary... the central square, in the summertime, is the scene of some events and manifestations, especially musical ones, which attract many people, not only from the surrounding villages, but also from the coastal areas.
Curiosity
On our way out of the village we pause to look at the beauty of the white stone of the ancient Roman bridge, when I notice the presence of a sign. As we approach, we learn that both here and in other surrounding villages, in Italy and beyond the Alps, there is a project underway to "develop an attractive and competitive environmental tourism," with the "creation of a tourist and educational structure related to fishing, a cross-border fishing route," as well as a center for repopulating the Roia River.
To make travel arrangements
Collections
Discover places and related research
The Map thanks:
Collections
Discover places and related research