2591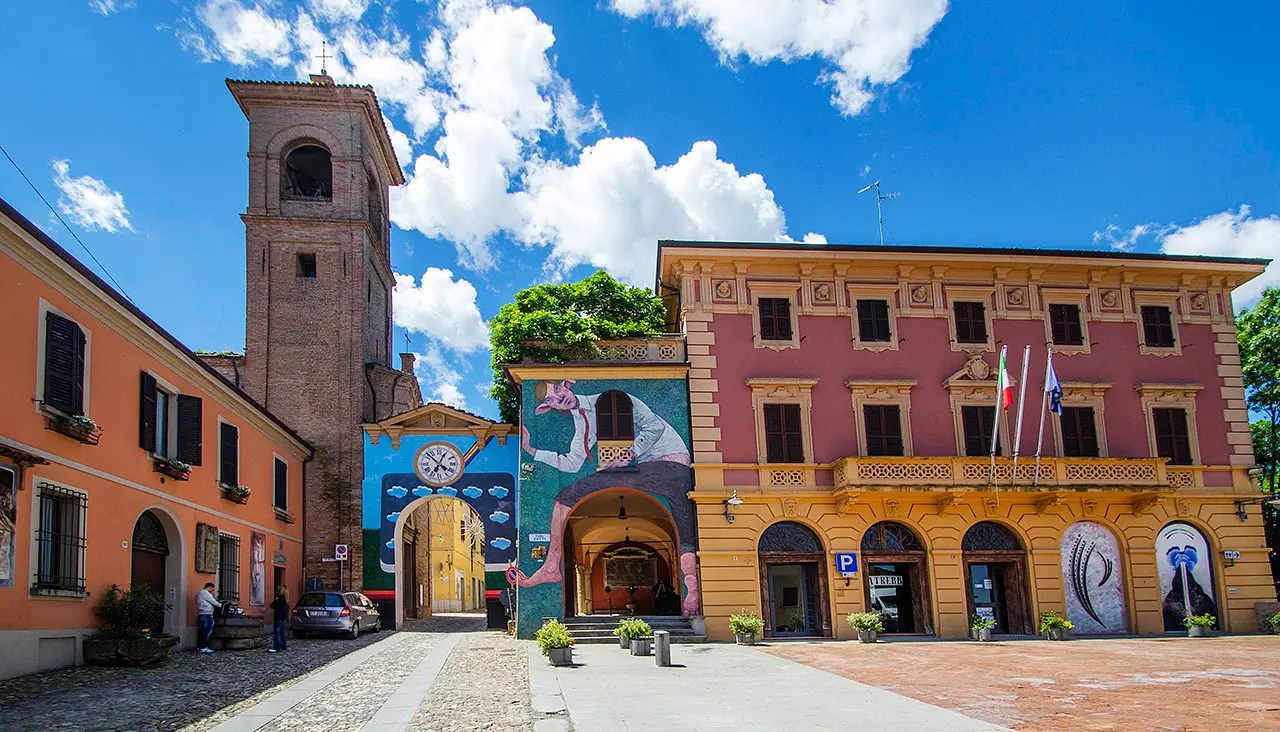 Dozza Imolese, where art is at home
An open-air museum within the walls of the ancient village


Automatically translated page.
What it is and where it is
On the hills overlooking the Sallustra River a few kilometers from Imola and the Via Emilia lies the first municipality in Romagna. It is a small village with a tapered shape, enclosed by the ancient perimeter of the medieval walls that still culminate in the Rocca Sforzesca. It is not, however, a village where medieval defensive techniques can be investigated. Even the Rocca over the centuries has become an elegant noble palace. Once inside, Dozza Imolese welcomes us into its colorful present to introduce us to the liveliness and cheerfulness typical of Romagna.
Why it is special
What better way to represent a playful spirit like Romagna than through art and color? Dozza Imolese is one of the finest examples of imagination associated with culture. To tell us its soul, its dreams but also its traditions, it has become a widespread work of art, dotting its alleys and buildings with flashes of color, works by famous artists to transform a walk into an exciting experience, discovering at every corner a wonder, at every glance a beauty.
Not to be missed
Enlivening the local artistic production is the "Painted Wall" Contemporary Art Biennial held in the third week of September. Established in 1960, along the lines of extemporaneous painting exhibitions and the Italian tradition of the painted wall, artists paint in direct contact with the public and in relation to the urban context.
A bit of history
Dozza Imolese is a village of Celtic origin that over time has acquired the classic layout of medieval villages: alleys and narrow streets meander among the houses, all enclosed by defensive walls topped by the imposing Rocca. Dozza's artistic vocation, on the other hand, exploded in 1960 with the first edition of the Painted Wall Biennial of Contemporary Art. In 2003, on the other hand, the Fondazione Dozza Città d'Arte (Dozza City of Art Foundation ) was established by the municipality to deal with the management and enhancement of the cultural and artistic life of the village.
Trivia
In the tower rests Fyrstan the dragon of Dozza, visible year-round through a secure gate. Once every two years, however, Fyrstan awakens during "Fantastika," an event dedicated to the dissemination and enhancement of fantastic illustration. Exhibitions, discussions, and live performances allow the curious, enthusiasts, and professionals to meet and immerse themselves together in this world that inextricably combines fairy tale and reality.
To make travel arrangements
Collections
Discover places and related research
The Map thanks:
Collections
Discover places and related research