1404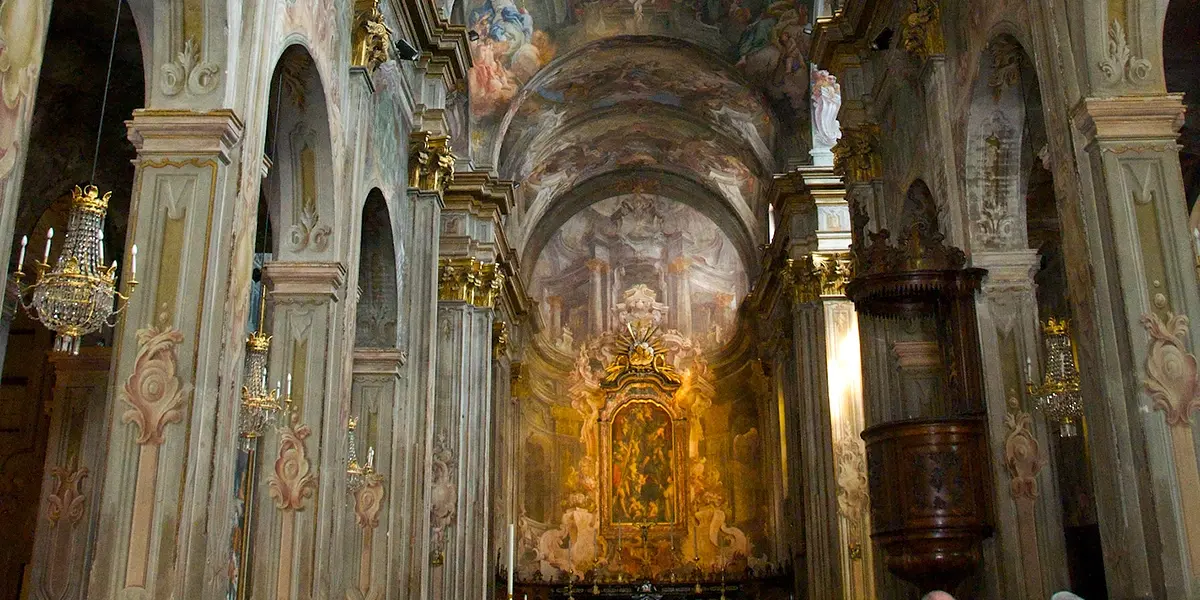 Automatically translated page.
What it is and where it is
The facade of St. Christopher's Church occupies an entire side of the small square it faces, parallel to the street and enclosed on either side by elegant buildings. Its light colors catch the eye, and the doorway invites us to enter. The space in which we find ourselves has the unbelievable. The airy, blurred, dreamy frescoes that occupy all the ceiling vaults expand and seem to drip down the pillars, covering them too with color and light interrupted only by the gilding of cornices and capitals. The effect is all-encompassing, so much so that it feels like an integral part of the decoration.
Why it is special
This profusion of beauty did not exist before the period 1752-56. Then the only frescoed walls of the church were those at the end of the aisles, with Gaudenzio Ferrari's stories of Magdalene and the Life of the Virgin. His works constitute wonderful pictorial cycles that encapsulate influences from the greats of the time (Leonardo and Raphael, to name but two) and reinterpret them in a new narrative form typical of Gaudentius. These works, and especially the altarpiece, will be a point of reference for the later Vercelli Renaissance school of painting.
Not to be missed
Also due to Gaudentius is the altarpiece called The Madonna of the Oranges. The Virgin, in the center, with her gentle expression conveys serenity as she supports the Child. Around them, Saint Joseph, Saints Christopher, John the Baptist and Nicholas, along with religious and prelates, encircle them in an embrace that unites heaven and earth, men and saints. The name of the altarpiece derives from the choice Ferrari made for the background: he filled it with a lush tree with small orange fruits, depicted with such care that you can almost smell its scent.
A bit of history
The present church of St. Christopher was built around 1515 on the land once occupied by the medieval church held by the Humiliati order. In the 15th century the church was granted as a benefice to the Corradi family of Lignana, with the obligation that one of its members be a member of the Order of the Humiliati. In 1515 the primitive building was torn down. In its place the present complex was built to a design by Guglielmo da Cozzo. Inside, the extensive Baroque-style pictorial decoration is due to painters Giacomo Antonio and Antonio Francesco Giovannini of Varese, who signed and dated their work in 1756.
Curiosity
The fruits that appear in the background of the altarpiece belong to an apple tree. They are small apples, with green skin veined with red, typical of Valsesia, which are certainly a timely reference to the painter's homeland. Because of the color they have been mistaken for oranges, hence the name Madonna of the Oranges.
To make travel arrangements
Collections
Discover places and related research
The Map thanks:
Collections
Discover places and related research