1344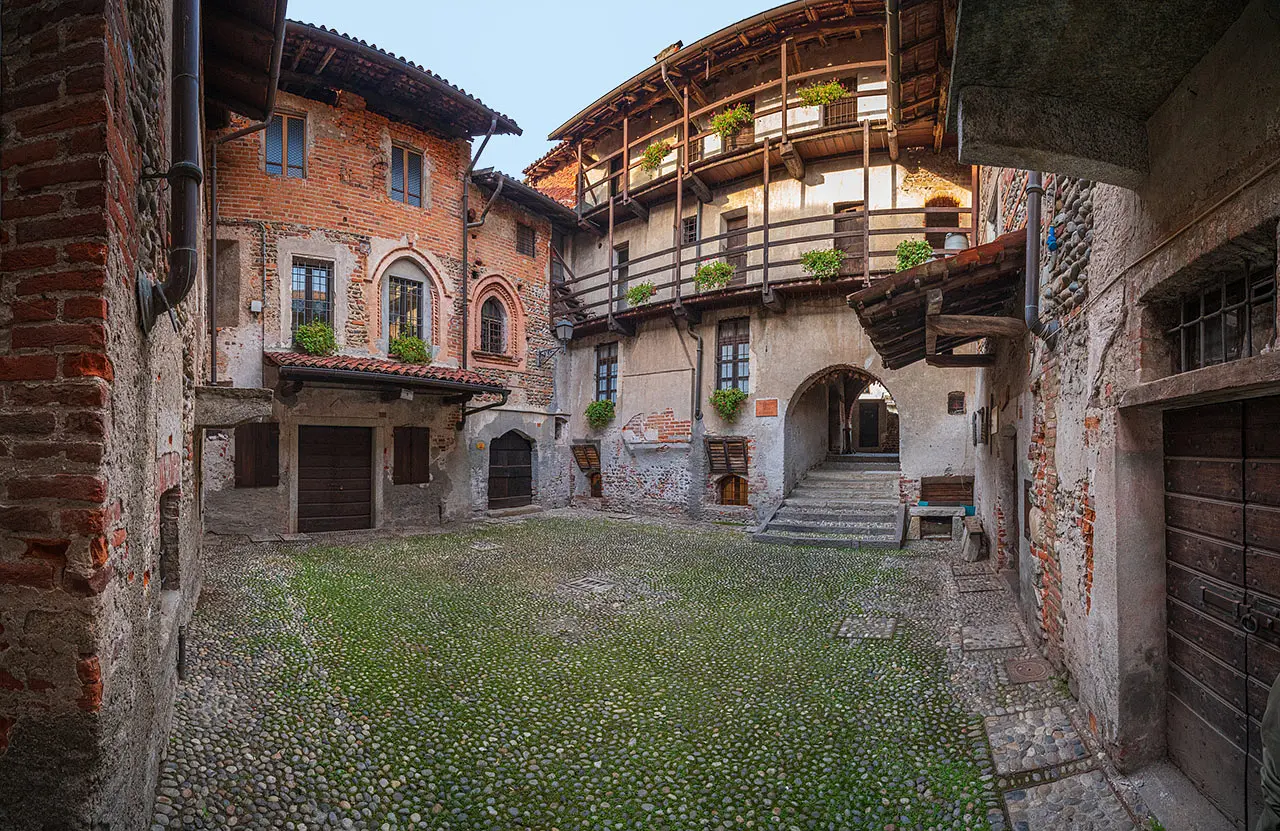 Castle-Ricetto of Ghemme
A fortress holds a treasure not of gold and gems, but liquid, red, fragrant, son of the Novara Hills
Automatically translated page.
What it is and where it is
In the village of Ghemme, stands a castle of folk origin. It is an urban fortification with an area of 12,000 square meters with a main road from which secondary streets lead off, giving rise to blocks and inner courtyards. In ancient times, each family in the village owned a vertical portion inside the castle, divided into 3 floors: the lower one occupied by the wine cellar, because Ghemme's inhabitants have always been winemakers; the upper one with the actual dwelling and above it an attic that served as a warehouse and storage for grains and foodstuffs.
Why it is special
The Castle-Ricetto of Ghemme carries on one of its main functions over time: to be one of the places in the village where Ghemme DOCG, a full-bodied Nebbiolo-based red wine that is made by regulation from grapes from the hills of Ghemme itself and nearby Romagnano Sesia, is produced and stored. In the houses and courtyards, yesterday as today, the ricetto still preserves the liquid soul of wine, which is produced and aged here within its ancient walls, where small and large producers have their cellars.
Not to be missed
There are times when the Castle-Ricetto dresses up and is at its best. Between April and May, for example, there is the Mostra Mercato del Vino Ghemme: tastings, exhibitions and moments to learn more about Ghemme DOCG wine and the other historic DOCs of the Novara Hills, to fully immerse yourself in this world. Then there is also an event more suitable for adults and children: Christmas in the Cellars. In an enchanted atmosphere, the small streets and courtyards of the Castle-Ricetto are transformed into a real Christmas village, with markets of artists and artisans and producers of agricultural and food excellence.
A bit of history
During the struggles between Guelphs and Ghibellines, the territory that lies along the banks of the Sesia has long been the object of contention between factions and great houses. Tired of constant looting and command struggles, the populations, began to build defense systems capable of resisting the devastation of wars to protect themselves and foodstuffs. The Castle-Ricetto of Ghemme is a magnificent example of this type of structure. Quieter times began in 1467 with the Peace of Ghemme between the Duchies of Savoy and Milan.
Trivia
The dwellings in the ricetto did not have direct access from the street in ancient times; each cellar on the ground floor, in fact, had a trapdoor, which connected the two floors by means of a ladder that, after each use, was withdrawn to prevent enemies from reaching them during attacks and looting. A true microcosm that soothed the spirits of its inhabitants and, later, inspired those of artists. Not for nothing, Antonio Fogazzaro and Mario Soldati mention the wine of Ghemme in their writings "Piccolo mondo antico" and "L'albergo di Ghemme"
To make travel arrangements
Collections
Discover places and related research
The Map thanks:
Collections
Discover places and related research