9535


San Daniele del Friuli among the hills and the Tagliamento River
jdshf



Automatically translated page.
The heart of the Friuli Collinare region is a continuous rise and fall surrounded by greenery, caressed by Europe's last wild river, the Tagliamento, and guarded by the nearby mountains. One destination capable of surprising and making lovers of nature, art and history and good food fall in love.
There are 15 municipalities that will welcome you in Friuli Collinare: Buja, Colloredo di Monte Albano, Coseano, Dignano, Fagagna, Flaibano, Forgaria nel Friuli, Majano, Moruzzo, Osoppo, Ragogna, Rive d'Arcano, San Daniele del Friuli, San Vito di Fagagna and Treppo Grande. Rich in historical and artistic evidence, as well as beautiful landscapes, they lend themselves to be discovered at a slow pace, on foot, by bicycle and on horseback. And after so much exertion, there is nothing better than a feast of local products, which here, are truly delicious...tasting is believing!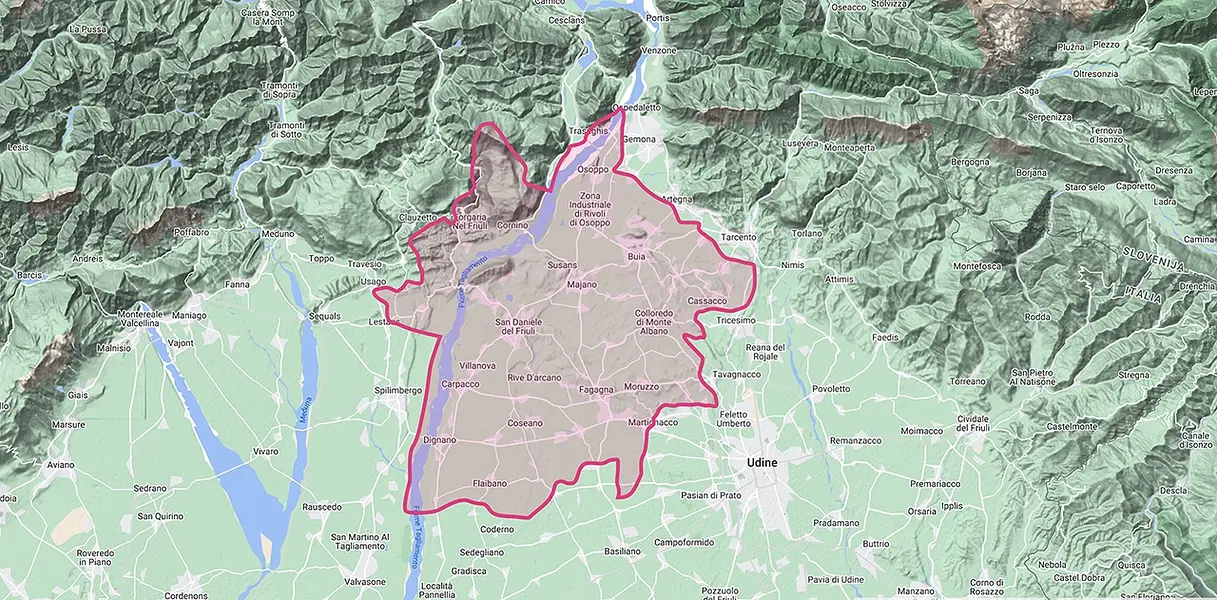 The Map thanks:
Useful to know
Ideale per...
Sapori locali
Come arrivare
Gli amanti dello sport
Le colline sono una splendida occasione per trekking, giri in bici e passeggiate a cavallo. A questo si aggiungono il Tagliamento, il Fella, l'Arzino, lo Stella e i laghi della zona dove praticare attività di navigazione
Gli amanti della cultura
Castelli, musei, antiche biblioteche, santuari immersi nella campagna... c'è solo l'imbarazzo della scelta
Gli amanti della natura
Le colline friulane sono caratterizzate da una campagna curata con amore, ma mantengono un loro lato selvaggio e libero nelle oasi naturali presenti sul territorio. Qui si può scoprire la natura più vera di queste zone.
Il prosciutto crudo di San Daniele DOP
Il clima particolare che si crea qui, tra le Alpi e il mare, regala note inconfondibili alle carni lavorate con maestria nel rispetto meticoloso di un'antica tradizione. A questo si aggiunge la fantasia per proporre ai visitatori assaggi classici, o accostamenti innovativi, per un'esperienza sempre nuova e indimenticabile.
La trota affumicata di San Daniele
Il cuore del Friuli è un abbraccio di terra e acqua, e così, anche il pesce reclama il suo spazio fra le eccellenze della tavola locale. La trota affumicata, con il suo sapore intenso e il colore intenso, ne è un esempio perfetto.
Il formaggio di Fagagna
Viene prodotto solo qui ed è fortemente legato al territorio: le bovine dalle quali proviene il latte, si alimentano principalmente di foraggi ricchi di flora spontanea del territorio.
In treno + bus
In treno si raggiunge la stazione di Udine. Da qui partono dei bus che portano ai comuni del territorio collinare. Per maggiori informazioni si consiglia di consultare il sito di Trenitalia.
In auto
La zona si raggiunge in macchina in circa 30 minuti da Udine e 40 da Pordenone.
In aereo
L'aeroporto più vicino è l'Aeroporto «Pietro Savorgnan di Brazzà» a Ronchi Dei Legionari (GO)