148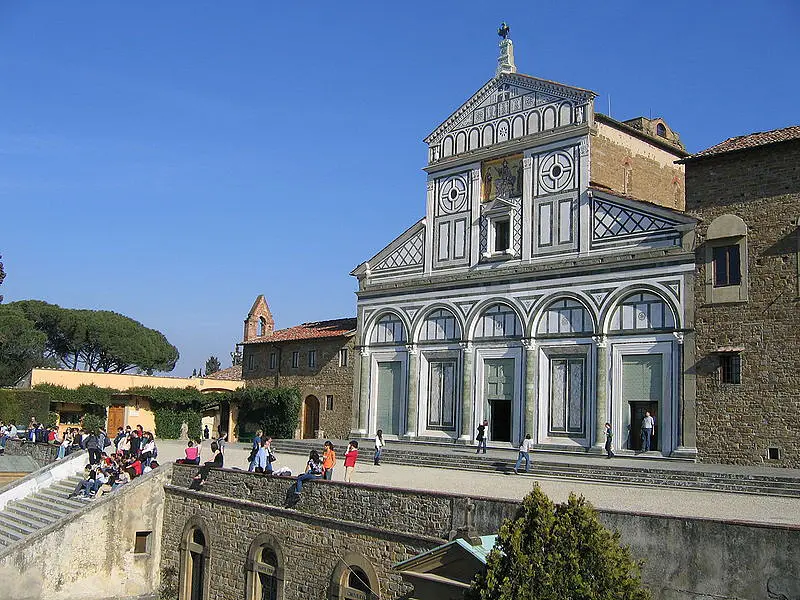 Basilica of San Miniato al Monte
The gates of heaven, overlooking Florence



Automatically translated page.
Where is
Toscana
Basilica di San Miniato al Monte, Via delle Porte Sante, Firenze, Firenze 50125, Italy (0m s.l.m.)
Directions
What it is and where it is
We had been suggested an alternative route to get to Michelangelo's Belvedere overlooking Florence. A small road that leads from the city center into the middle of the Tuscan countryside, about 30 minutes in all. We definitely took the wrong route because our walk took an hour. We were almost there when a staircase opened on the right, leading up through a monumental cemetery to a church: the Abbey of San Miniato al Monte.
Why it is special
The abbey is an example of Romanesque art. The regular facade, majestic in its perfect geometry, guards an ancient heart. If you visit it at sunset, you will feel like you are taking a trip back in time: at that moment the sun floods it with light with warm reflections. The door, ajar, lets the golden rays filter through. As soon as you enter, the half-light: today as in the past, there is almost no artificial lighting, and if you are lucky, while your eyes get used to the little light, a monk at the organ will accompany your visit with his music.
Don't miss
San Miniato al Monte is located higher than the Belvedere and, most importantly, here there is not the crush of people that makes it impossible to enjoy the view. Visit the abbey, browse the monastery's pharmacy, then sit on the steps and enjoy the view, the peace and yourself.
A bit of history
Its construction began around 1018, where a chapel dedicated to San Miniato stood and where the saint was said to have lived his hermitage before his martyrdom. It was decorated by numerous artists, who continued their work for about two centuries. Unlike the abbey, the bell tower was not finished until 1535, after having been a strategic point for the defense of Florence during Charles V's siege of Florence.
Trivia
One of the decorations on the floor is a zodiac wheel. Made around 1200, it was for years considered a simple decoration, devoid of any astronomical function. It was only a few years ago that a sundial maker noticed that every summer solstice, a ray of the sun creeps into the basilica and accurately hits the sign of Cancer. Impossible that this is a fluke.
To make travel arrangements
Collections
Discover places and related research
The Map thanks:
Where is
Toscana
Basilica di San Miniato al Monte, Via delle Porte Sante, Firenze, Firenze 50125, Italy (0m s.l.m.)
Directions
Collections
Discover places and related research